New Owner Diaries
We enjoy trail riding our mules while we have them. Now see and read how the new owners are enjoying their Missouri Mule Company mounts.
Gillie is having a Missouri Mule Company "Mule Experience">


Fron Gilli 12/18/2014
I rode Cinamon in some cows this week and although she is not a cutting horse yet her mental acceptance of this idea is growing. I am truly amazed how she is trusting me more not to put her in a situation to endanger her. She is taking less time to process things and is really moving on faith that we are a unit, this is something that I have only felt with maybe two horses in my life. Thanks for exposing me to this experience. Bob I wish you and yours a very Merry Christmas and a Great New Year. Gillie
Perfect Timing



2007 Tennessee Walking Horse Mule
14.3 1Hands
Flat Foot, Running Walk, Short Lope

Click here for Movies
& her diary


Private treaty

Great ladies mule. Sweet and loves attention. Oh! You guys would like her too.

Perfect Timing is her name, and safe comfortable trail rides are her game! This elegant molly has great gaits on BOTH sides of the family tree-- her dam was a beautiful Tennessee Walker mare, but her daddy was a real gaited jack! No wonder she doesn't set a foot down wrong. Perfect Timing has a beautiful, refined and feminine look to her that gets compliments wherever she goes. Her gait is very rhythmic, which makes her a natural choice for riders with lower back tightness-- the passive stretching (that comes from riding the right mount) is better than a massage for some conditions. But there's more to this Molly than just looks and smooth, floaty, 4 beat gaits -- she also has a good mind for her job, making her exceptionally consistent-- solid on all spooks and tricky footing situations. Lots of good brains in that pretty little head! Some mules are just born craving that one-on-one relationship with humans, and even if you are a discerning or nervous rider, Perfect Timing will make you feel at home in the saddle while engaging you with her sweet and affectionate personality.

If your timing isn't perfect use our Installment Plans
Lil miss feeona (Alias Sierra Vista)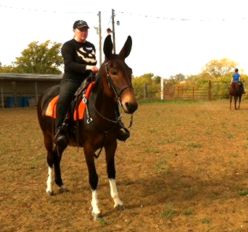 Well, an anniversary has been met today !! I have owned Lill Miss Feeona for 1 year as of today !! She is the highlight of my day when I see her !! I've attatched some pics of an obstacle clinic that we went to 2 weeks ago. She was awsome !! Riding her in 2 competitive trail challenges this weekend at Hillsdale Lake. We are in the open division, maybe a little above her right now, but that's ok, that's how we learn !! PS. also going to be in our first costume contest on saturday I'll send pics ! Thanks, Erika & Feeona HAPPY TRAILS !!!
miss Montana and Miss Dakota
owned by: Orin and Lee Ann of Nashville Tennessee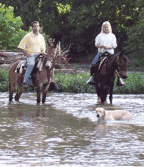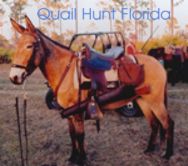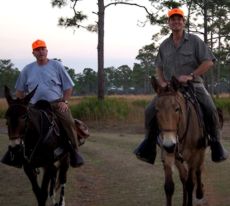 Bob - Montana and Dakota are doing just great. We can take them anywhere. This pictures is cooling off in the Harpeth River. Also as a FYI, we have started mule polo in Tennessee. They picked this up in less than one half hour. As a man who has had horses all his life, these mules are so cool. Thanks for getting us started right.
12/7/04 Bob – I went down to Chattanooga a week ago and rode George W (A Gaited Mule sold to Orin's friend) on an all morning quail hunt. Not only did he not take a wrong step, but I had to hold up and wait on the walking horses a couple of times. When it came to going up the hills there was not contest. They love him. Just thought you would like to know.



01/03/05 ....

I have taken her (Montana) down to our ranch in Florida where she will spend the winter quail hunting (rough duty). The part I thought you would find interesting is how quickly she caught on to the program. Dogs running under foot, shotguns going off, horses all around, do not seem to bother her a bit. I am still working on ground tying, but she does everything else like she has been at it for years – not just a few weeks



Star
Some Guys just got it made. John Glenn doing it his way.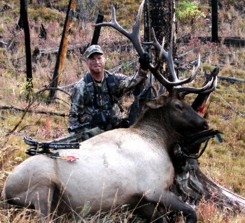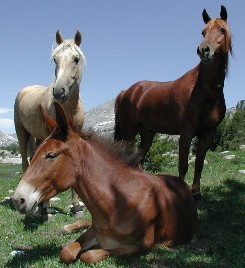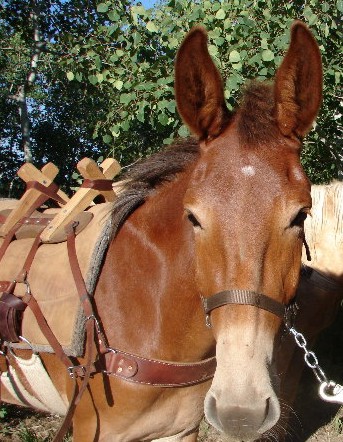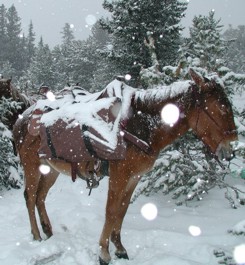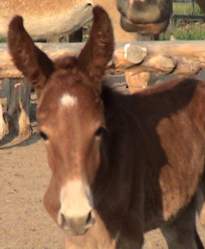 Sedona
Now Gary is having some real back country fun on his mule. No body needs to ask him what he'll take for her, They are headed to Colorado this hunter season. Gary hog and squirrel hunts regularly in Louisiana. He lost his home in the 2005 hurricanes, but all his animals made it out safe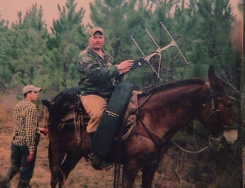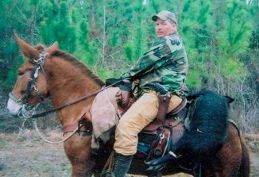 Rebel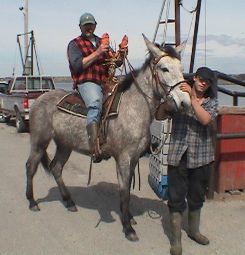 Now that is a lobster
Aurel and his friends are lobster fisherman from Nova Scotia Canada
(Note from Aurel)
hello!
I first read about gaited mules in a story in the magazine Trail Rider
in 2003 and in the winter of 2004 found a mule web site
Missourimuleco.com and you know the rest. My main riding would be trail
and having read about the stamina and endurance etc. of the mule i
automatically became interested in them...and the gaited mule even more!
I received Rebel in June, 3 and a half years old with a yearling colt
for one of my friend who is interested in trail riding as well. Rebel's
new name is Poussière Frio (Cold dust) and the colts name is Piro (
pronounced peero). Living in an area with no mules makes them a novelty
especially since they are saddle mules. The only other 2 mules that i
have encountered up here were draft mules a fellow has for pulling and
driving. At first I was concerned about the many bogs (mud holes) we
have up here especially because of the smaller size hoof of a mule
compared to a horse. But my mule has proven himself and more this past
summer and fall. One thing i found with a mule, if he sinks in a hole
or such, Poussière doesn't panic nor struggle as a horse often does. One
day I was trail riding on one of my horses with Poussière traveling loose with us on a hardwood ridge. I decided to go across to another ridge, in between
was a small distance of a black spruce in soft bottom so I walked my
horse with a lead rope when i crossed to the other ridge I looked behind
and couldn't see Poussière anymore. So i tied the horse backtrack a ways
where i found the mule lying down under the ferns which were about 3 ft
high. His back foot was snarled up between 2 roots with his leg straight
back, there was no way he could get out. The mule was not moving and
more importantly not panicking. So i cut off the root he got up and we
continued. I am more than content with Poussière, I'm looking forward to
the spring and especially to go on the 2 or 3 days ride in the
back country. We ride a little bit in winter also push cattle for fun.
Poussière covers a lot of distance especially when gaiting, my horse
friends don't find it amusing especially Arthur who would love a
smoother horse.
Aurel
Kate
Kate did absolutely excellent - she is an excellent traveler in the trailer and an excellent trail animal. We had absolutely no incidents during the entire trip and we rode through some very rough country.
We started the ride in the rain on August 3 leaving our trailers at Benchmark Campground in the Bob Marshall Wilderness about 70 miles west of Great Falls, Montana. The first day we had to cross 3 swinging suspension bridges which, with Kate in the lead, posed no problems. Our first night we were to camp about 8 miles from the trail head, but encountered signs that warned us of bears in the area and to pass straight through and not linger. At the end of this section of the trail the rangers were set up to warn people to turn around and camp about 2 miles back. It seems that 2 days before an outfitters mule fell off the mountain and died of internal injuries and there was a female bear and her cubs eating the mule. The rangers were going to "vaporize" which means pack the mule with 100# of dynamite and blow the it to smithereens, but they couldn't get the sow and her cubs off the mule - so they opted to close that section of the trail for the rest of the season. This meant that we had to backtrack around this section and take a more mountainous route which wasn't too much of a problem.
Most of the riding was easy with sections of challenging mountainous drop offs. We rode through a lot of pine. Kate handled all of this without missing a stride. She carried me and a huge saddle bag with all of our clothes and rain gear. Our foxtrotter was the pack animal and he was loaded with the panniers which carried our food and other necessities needed on a seven day pack trip.
About the fourth day we reached our destination - the Chinese Wall - which is a natural phenomenon (it's just a side of the mountain that looks like someone built a wall) that many hikers and horseback riders ride into the wilderness to view. There were a lot of hikers and several outfitters in this area.
Our only layover day - day 5 it rained all day for about 26 hours to be exact. We did get rained on several times, but our tent held up and we didn't get cold. It was about 38 degrees one morning.
Day 7 we arrived back at our trailer - I tell you I was never so happy to see my camper and a real outdoor toilet in my whole entire life. The trip was described as a "once in a lifetime trip" by me. I loved the riding, but did not enjoy sleeping on the ground in a tent, but back has been very sore since about the 4th night on the ground. My husband is ready to go back next year, but since it's my turn to pick - I'm opting for a horse/mule resort with a hot tub.
After we arrived back at the trailer on August 8 we took a day of much needed rest and then on Aug. 10 we rode to the top of Patrol Mountain which is about 8,500 feet. We rode at 20% grade for about 2 hours - with Kate in the lead. Although she had to be coaxed along at several places - she did absolutely excellent. I've overcome my fear of riding on those shear drop-off because she is extremely careful and walks in the middle of the trail instead of an edge walker like my foxtrotter. She lead all the way down too which was even more challenging than going up. You just cannot imagine the challenge these trails posed for flat landers.
Anyway - although it's taken Kate and I most of the summer to trust each other - now the bond has formed and we are true trail partners. She also travels really well in the trailer and adapts well to being penned at various stops along the way out and back to the Bob Marshall. We stayed at several rodeo grounds and a couple of ranches during our travels. Without hesitation she jumped right in the trailer every morning.
I'm very very happy with her and she has a home with me for the rest of her life. After all I rode my old mule until he was 29 - so I'm hoping Kate lasts that long for me too.
07/12/205 update: She's a Dream!!!!!
We were in the Big Horns of Wyoming riding last week. Passed through some
very rough country which Kate handled like a dream. The rougher the terrain
the better she does. She loves to lead and is far ahead of the rest of the
group.

Midwest Express
Snake
owned by: Tim & Lisa in Colorado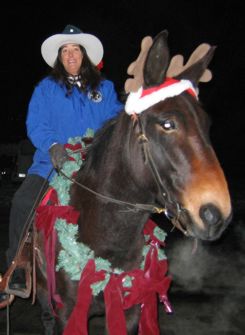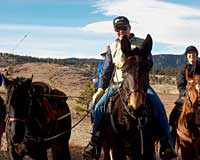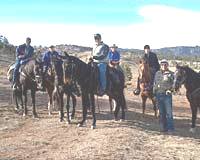 We arrived home today around 1230 our time with no problems. Yesterday we went to the Bed & Breakfast and it was really nice. Snake had some horse friends there so he was excited. I really recommend this ....... This morning Snake was not too sure he wanted to get back in the trailer, who could blame him? But after a few moments and with grain, he jumped right inside like a good old boy! We are definitely drawing a crowd where ever we go...gas stations especially because every time we stopped we open the windows so he could look out. Yesterday we gave some guy your name and phone # because he was interested in mules. Today a crowd of kids gathered around the trailer and we could tell snake loves kids. He dropped his head to touch and smell them. The kids loved it. In a little while I am going to look at the CD (Missouri Mule Co. Videos and photos) you gave us. We bought some cotton rope to work him in the round pen and a smaller girth too. We will keep you posted! Hope all is well, Talk to you soon, Lisa and Tim.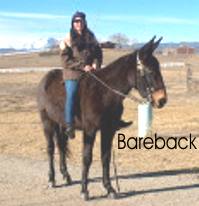 We are hoping to ride on Sunday an hour or so. We rode Snake around our pasture and he did great. He walks out in frond and back. He spooked at one point but Tim was able to stop him quickly. Tim is very pleased with him! At first the horses were very mean to him but now he is fitting in very nicely. We took him to a friend's house and practiced walking over logs, walking by plastic and then he walked over it too. He is doing great...Tim and Lise
Can you guess who has the big ears in these photos? Tim and Lise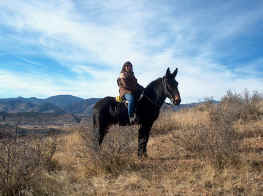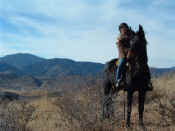 12/7/04 Took Snake to a Cowboy Training vacation. He did great. Loved rounding up cattle. Learned to be roped off of.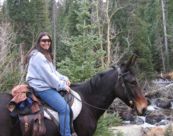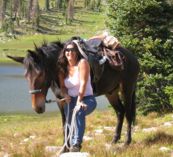 28/10/05
Hi Bob,
Snake is still cruising all over Colorado....he is the MULE!!! He loves to go riding and explore new terrain. This past summer we saw lots of moose and he was great, he did not even flinch a muscle!! He has been camping and likes to wake us up with his braying for his breakfast. We have also taken him to Bed and Breakfasts with us....he always attracts a crowd because of his good nature. Everyone loves him, I have to be careful that no one tries to steal him from us!! Hope all is well, talk to you soon!! Tim, Lise and Snake
09/2006 update:

Hi Bob,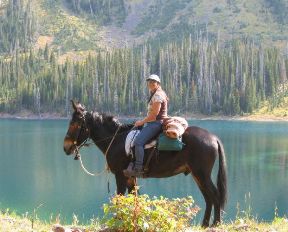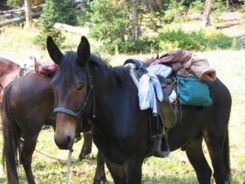 How is it going?? I just wanted to email you and tell you some of the places we have brought Snake this year....he has been to Colorado State Park on a camping trip, a week to the Flattops in Meeker Colorado and to Wyoming on a cattle ranch. Snake is loving life and has just discovered Pears....My girlfriend was eating one at lunch time and he smelled it....and then talked himself into eating it!!! She thought it was very cute!! For the next three days, she brought him a pear to eat for lunch just to keep him happy. Snake has been a awesome mule and we love him.
Everywhere we bring him, people fall in love with him, his personality and his soft eye. We are even bringing around the non-mule folks....my girlfriend has fallen in love with him....(she was the one feeding him pears!). On our last day of riding the flattops, we rode in the darkness for over two hours and he handled it like a champ!!! It was amazing how well he did on the trail even when I could not see it!! Hope all is well and that you are enjoying yourself and your mules!! Come visit sometime!! Tim, Lise and Snake!!!!!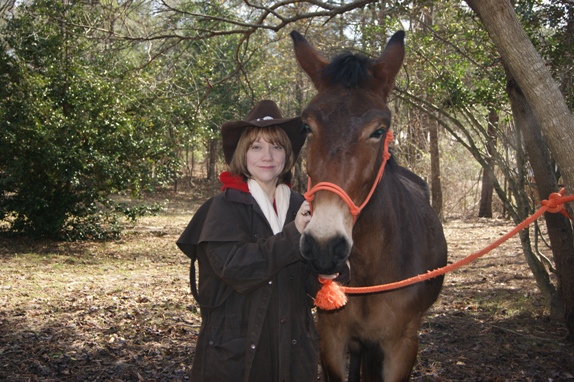 Missouri Mule Company
Bob Bingham, owner
3599 N. Farm Rd. 189 • Springfield, MO 65803
Contact phone number: 417-766-5150 • E-mail:
bob@missourimuleco.com
Missouri Mule Company, copyright © 2003 - 2015