George Washington believed that horses "eat too much, worked too little, and died too young" to be productive farm work animals.

Shipped semen available
If you are considering raising a Baby Mule Colt consider this.
Although ears and a pretty head are paramount in a mule, a good mindset is required for greatness. Some mules have a mental aptitude for more forward movement than other mules. This is a much-overlooked matter when choosing a Jack for your mare. After training so many mules that are required to display a good balance in forward thinking, I have realized the Jacks have a huge influence in the mental development and production of "The Safe Mule" as well as a "Fluid Mule". Our Jack's offspring possess such mindsets and deserve your serious consideration.
| | |
| --- | --- |
| Coverage at the barn | $550.00 |
| Mare care | $50 per week |
| Total service at barn | $600.00 |
| | |
| Additional cost to ship cooled semen : | |
| Collection and extension | $150 |
| Overnight UPS Continental USA | $125.00 |
| Estimated total shipping cost | $825.00 |
| Frozen semen is available but cost is Approximately an additional $200.00 | |
Missouri Traveler MyAss
- 16.1 hands Mammoth Jack
- Conformation and size to produce a great mule out of your mare.
Missouri's IronSides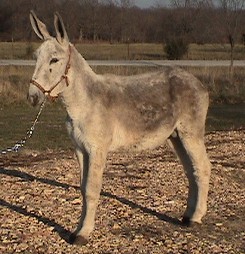 - 15 hand Mammoth Jack
- Conformation and size to produce a great mule out of your mare.
Jack Services
There is a lot to consider when selecting a jack. We have provided many photos and movies for your consideration. The best way to consider a Jacks influence on your mule colts personality is by watching the jack interact with humans. For this reason we have provided several movie clips within each Jack Diary. More comprehensive DVD's are available upon request via US postal service. We also have links to each Jacks offspring on his diary page, be sure to review confirmation, ear and head of colts when considering a Jack for you mare. If a Jack you are looking at can't show you his offspring, forget him.
As you review the Jacks you may realize you would like assistance with your selection. Please call so we can better assist you in selecting the appropriate Jack. Please use my cell phone (417-766-5150) to contact me on any questions about the breeding program or e-mail me bob@missourimuleco.com.


Missouri Mule Company
Bob Bingham, owner
3599 N. Farm Rd. 189 • Springfield, MO 65803
Contact phone number: 417-766-5150 • E-mail:
bob@missourimuleco.com
Missouri Mule Company, copyright © 2003 - 2015