Vacation the USA through the ears of a Missouri Mule!
Miss. Kentucky
Sweet, Smooth and Surefooted Babysitter Molly!
Miss Kentucky is a Black Bay Molly Mule
8 years old
Tennessee Walker Mare x Gaited Jack
15.2 hands, sturdy medium build
"Miss Kentucky" is the kind of molly we've built our business and reputation on - the kind of mule that repeat customers ask for, referral customers expect, and people that have looked everywhere else can never seem to find.
Miss Kentucky would be a great fit for most of the people that come looking on our site. She'd also make a great family mule because she doesn't play favorites - whoever is in the saddle at that moment is her new best friend!

$14500
(Click for more video)
Ozark Ridge Runner
Fearless Daredevil Lead Mule -Confident Rider's Dream!
Leroy is a Bay John Mule with flashy matching hind stockings
4 years old
Tennessee Walker Mare x Gaited Jack
14.3 hands, refined and stylish with gorgeous head.


Right now, this absolute machine of a john mule has everything an experienced gaited rider would want - and I mean EVERYTHING! The perfect size, the flashy markings, the uncompromising gait quality, the "down and dirty" trail skills… AND something not every john mule possesses - the potential and talent to eventually mature into a solid "beginner-friendly" ride, as well. At only 4 years old, it's easy to forget Leroy's isan't the Trail Bosses Mount that's going to continue to get better and better. This makes him a pretty hot commodity for a few different situations. Many mature riders look for a young mule just like this to carry them through a few decades and into their golden years in comfort, safety and style. Like many of the finer things in life, a good mule only gets better with age! Also, active riding families with many up and coming young riders like mules like Leroy. Right now, the adults can enjoy him and put the kind of polish they want on him, and by the time the kids are ready to take their riding seriously, he'll be ready to step up and take on the youngsters on backcountry adventures as well.
(Learn more about Ozark Ridge Runner Click for Dairy)
15000

Adaline
Must See for Senior Riders, Nervous Novices or Special Needs Riders!

Adeline is a Brown Bay Molly Mule
14 years old
Tennessee Walker Mare x Gaited Jack
15.2 hands, sturdy medium build
"Adeline" is a great representative of the very top tier of the mules we like to develop for our customers. There are many riders out there that, for whatever reason, need a mule that has something a little *extra.* Whether they're recovering from an accident and getting their confidence back, or they're determined to stay in the saddle during their senior years, or they're looking for a mule that will help them overcome a physical limitation and still ride. Finding the right mules and finishing them OUR WAY is the most rewarding part of our business, and we're honored to have one of this great molly available right now.
(Click for more video)
$15500
Skunk Tail
5 Year Old Tennessee Walking Horse Bred Mule
Black with striking Blaze Face
5 years old Gaited John Mule
15 hands, sleek build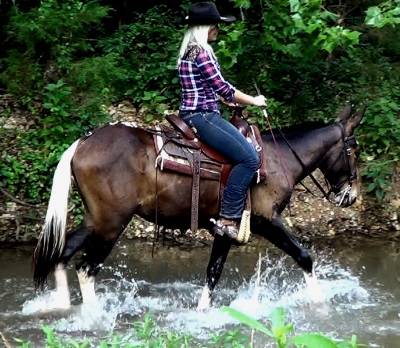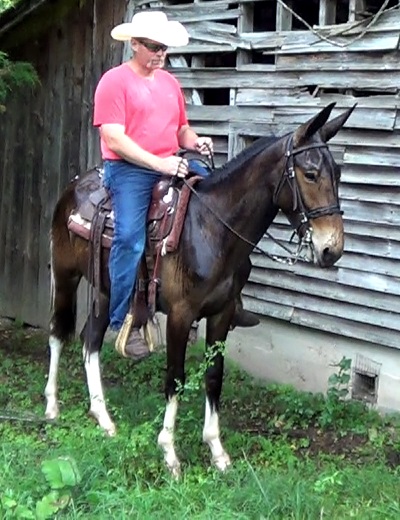 Clisk here for more videos
$10500
My fair lady

Golden Strawberry Roan with flashy socks and spots.
10 years old
Tennessee Walking Horse bred
15.2 hands
Not everyone wants the basic, reliable family sedan. Some people want the flashy sports cars with the fancy paint job - and THIS molly is one of those! Lady is a powerhouse ride with a big motor. If you tell her what you want, she will cooperate.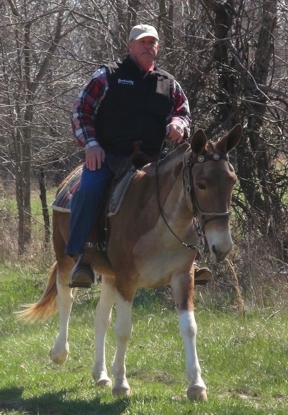 Lady is truly one of the most unique mollies we've ever had here at MMCO! Size? Check! Standing an honest 15.2 hands high, she's one of the tallest gaited mules we've ever offered. Color? Check! It's like she has a custom paint job - her coat is this wild fusion of reds and golds, shot through with roaning, a white spot, and 4 high stockings!. Her base shade is hard to describe- it's not quite sorrel, but not really palomino, either. Kind of like a rose gold. We're guessing she'll have a different look every season of the year - many roans are like that. (Read More & Videos)
$18000.00

Leroy
5 Year Old Tennessee Walking Horse Bred Mule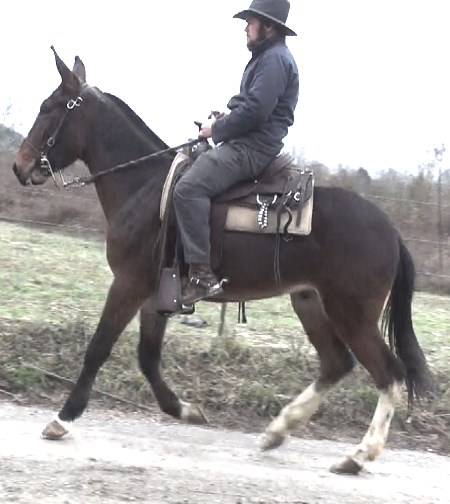 $13500.00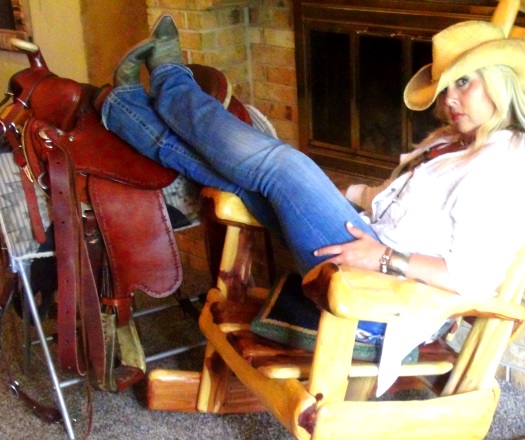 (Click photo to rieview our custom order mule saddles.)
Missouri Gold Rush
Sold


Blaze on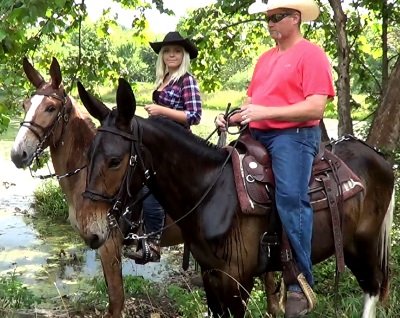 Sorrel with striking Blaze Face -
5 years old Gaited John Mule
14.3 hands, sleek build

By anyone's standard Blaze is an exceptional mule. He has the gait and aptitude to do anything from group trail rides, endurance competition to field ttrailing.He is not yet a granny mule but is consistently proving himself to be a fun and exhilarating trail mount.
e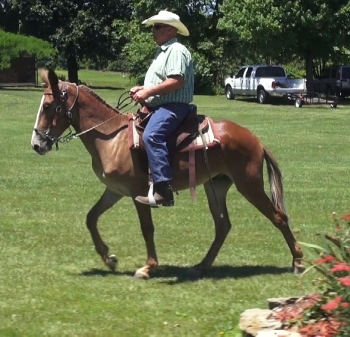 Sorrel with striking Blaze Face
Click for more videos
$13500 Sold

Most people who want to raise their own mule colt have a few things in common. They value the lifetime relationship you can build with an equine, they want to ride a mule whose background isn't a mystery, and they have a do-it-yourself mentality that makes them trust their own skills and instincts.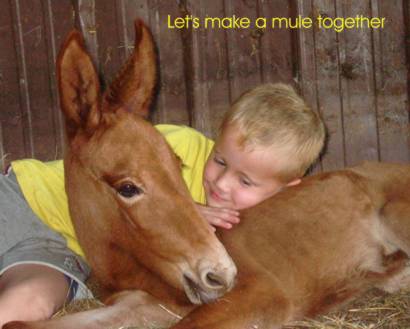 We feel that if you start with the right raw materials - quality youngsters from proven producers of gait and temperament - and bring them up the right way, almost anyone can raise a youngster from weaning until it's time to start them under saddle.

To this end, we're offering up some of our select youngsters that would be suitable for people who want to raise their own mule. Have a look around our "PlayPen" - If you find one you fall in love with, it would be in your best interest to speak up, fast! From the amount of inquiries we've had asking for youngsters, they won't stick around long.
Click here for more info and videos on MMCO Playpen
and new arrivals.

Alex
If you ever wanted a flashy driving mule, here's your ticket to ride. Can you imagine what he would look like in front of a fancy surrey in a driving harness Alex is under saddle now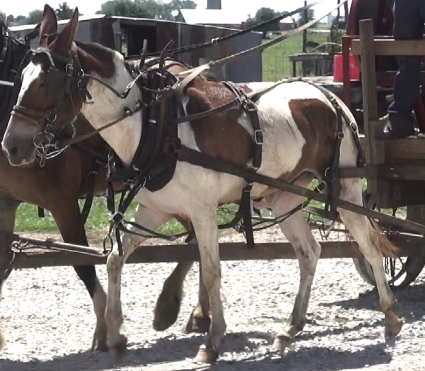 (Read more)
Click for movies
$8900.00

Coal

5 year old Tennessee Walking Horse John Mule
14.3 hands


Whether you are 50 or 2500 miles away, our individualized "Mule Diaries" are regularly updated so you can meet each of our mules up-front and personal. Be sure to follow the links on this page into each mule's individual diary. By reviewing these "Saddle Mule Diaries" new owners in the USA, Canada and Europe have met and fell in love with their current trail companion. Via these diaries riders make a well-informed purchase facilitating their safe and happy trail riding and event participation.
Are you searching for safety, confidence and comfort in the saddle?

"You're getting closer"
Mount a MMCO gaited saddle mule and you will know what we mean. No other equine can give you the power, safety and comfort on a flat loamy bottom, or setting your hair on end sliding down a slippery mountainside. As we hand weave hybrid power, gait, agility, and soundness of mind, we have no desire to take any shortcuts. As a result, you will ride any terrain safely, including some shortcuts.
A Missouri Mule Co. (MMCO) mule puts you in absolute control of uncompromising hybrid power. But where is it written that a mule can't also offer pure comfort? Not here. Just settle into the saddle. Feel the comfort of the relaxing gait. It is the result of intense observation, development and training. Gaited mules are comfortable for 20 miles a day, they also secure your safety during extreme riding conditions. Now relax. Enjoy the view from your "Safe Space" atop a MMCO mule. Now, go where you want. See what others don't. Because you don't have to stay on the beaten path anymore. Tear into the back country where few dare to go, see what they missed.

Upcoming Mules
I have several Fox trotter and Tennessee Walking horse mules that will be listed soon. I'm sure as you check back with the Missouri Mule Company site I can help you find a gaited mule that fits your personal requirements. Feel free to pick up the phone and give me a call anytime. My cell phone number is 417-766-5150.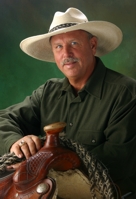 The worlds legendary Missouri Mules have always had a highly esteemed reputation. That reputation was earned by applying its ability to help man compete and win on the battlefield or the cotton field. Man has utilized this hybrid from the time Solomon road David's She Mule to be anointed king of the Israelites all the way to the settlement of the wild west and after that the mule traversed two world wars. As they assisted man, they won his heart and soul. Now, after decades of developing excellent gaited mares and fine jack stock you have the privilege of sitting atop the safest gaited trail mounts ever produced.
A hybrid we call the "Gaited Missouri Mule"



Missouri Mule Company
Bob Bingham, owner
3599 N. Farm Rd. 189 •
Springfield,
MO
65803
Contact phone numbers: Cell 417-766-5150
E-mail:
bob@missourimuleco.com
Missouri Mule Company, copyright © 2003-2015